Guess what time it is? It's Rockin' the Baby with Shell at Things I Can't Say!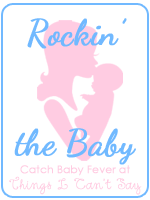 I honestly can't believe my baby is almost 9 months old...it seems it was just yesterday he was kicking inside my belly. Oh how fast they grow!
Now it's your turn...head over to Shell's and Rock That Baby!